Tailgating in Tamiami Park returns in 2023 for every Panthers home game. The Cuban Memorial Area of the park, just southeast of FIU Football Stadium, is the perfect setting to enjoy pre-game activities. 
FIU requests your cooperation in supporting our community. We ask all our fans to hold themselves to a higher standard, be courteous and cheer our Panthers to victory with class. We want you to enjoy your game day experience.
Tailgating Information
Bag Policy

A clear bag policy has been implemented. Ticket holders are allowed to carry one clear bag, such as a one-gallon clear plastic storage bag no larger than 12" x 6" x 12", as well as a small purse about the size of a hand. An equipment bag necessary for medical items is allowed. Diapers and wipes can be carried in a clear bag for age-appropriate children accompanied by an adult. Prohibited bags include, but are not limited to, large purses, coolers, briefcases, backpacks, fanny packs, mesh bags, or any bag larger than the permissible size.

Stadium Information

All Students must enter the stadium at Gates 6, 6A & 7 and present their FIU OneCard for admission. Event staff will direct students to Gate 8 if lines build.
1 Valid FIU Student ID = 1 Admission (A card reader will be used to swipe your OneCard).
NO RE-ENTRY WILL BE PERMITTED.
Gate 6 will remain open until the end of the game.

Gates will open 60 minutes before kickoff. At the time that the gates are open to the public, all concession stands will be operational and all security and ushers will be in place. Authorities are allowed to inspect patrons and their bags upon entering FIU Ricardo Silva Stadium for spectator safety. FIU reserves the right to prohibit any additional items. The following rules are in effect at all FIU events:

Prohibited Behavior:

Unruly, threatening, or disruptive behavior such as standing in the aisles, profane and abusive language, smoking, fighting, throwing objects, and drunkenness
Standing on seats/bleachers is strictly prohibited
Acts of a derogatory nature directed toward individual players, teams, staff, spectators, or game officials
Entering the field of play unless properly credentialed or accompanied by authorized staff

Prohibited Items

Items prohibited from all FIU Riccardo Silva Stadium events include:

Outside food/beverages
Illegal drugs
Playing balls
Umbrellas
Pets (except for certified service dogs for disabled patrons)
Bottles, cans, flasks, thermoses, ice bags, ice chests, coolers, picnic baskets
Boom boxes, artificial noisemakers, musical instruments
Firearms, incendiary devices (fireworks, smoke bombs, etc.)
Flag poles
Confetti
Weapons or any item deemed hazardous by FIU Riccardo Silva Stadium management personnel

Baby strollers need to be kept clear of all aisleways and must be checked upon entering the stadium.

Alcohol Consumption

Alcohol will be served to fans 21 and over. Identification will be checked by a third-party vendor. Fans over 21 can receive a wristband. Wristbands must be worn to purchase alcohol. There is a two-drink limit with each purchase and a four-drink total limit. Wristbands and identification will be tracked so fans can receive only one band per game. All sales of alcohol will stop at the end of the third quarter.

Should you observe any violations of stadium or university policies or action(s) that endanger the health, safety, or welfare of yourself or others, please find your nearest law enforcement officer.

Tent Anchoring Guidelines

Tents erected on FIU property must be appropriately weighted down to avoid becoming a projectile under windy conditions. Staking the tent legs is insufficient and not permitted due to the risk posed to underground utilities.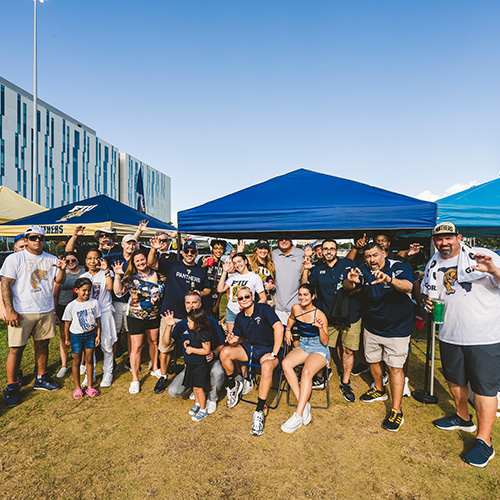 Fans are Responsible for
Treating others respectfully
Staying seated in the stands during the game
Discarding trash in the appropriate containers
Taking care of guests and being responsible for their behavior
Complying respectfully with law enforcement officers and FIU staff
Creating an inclusive environment
Knowing alcohol consumption limits
Eliminating the use of tobacco or controlled substances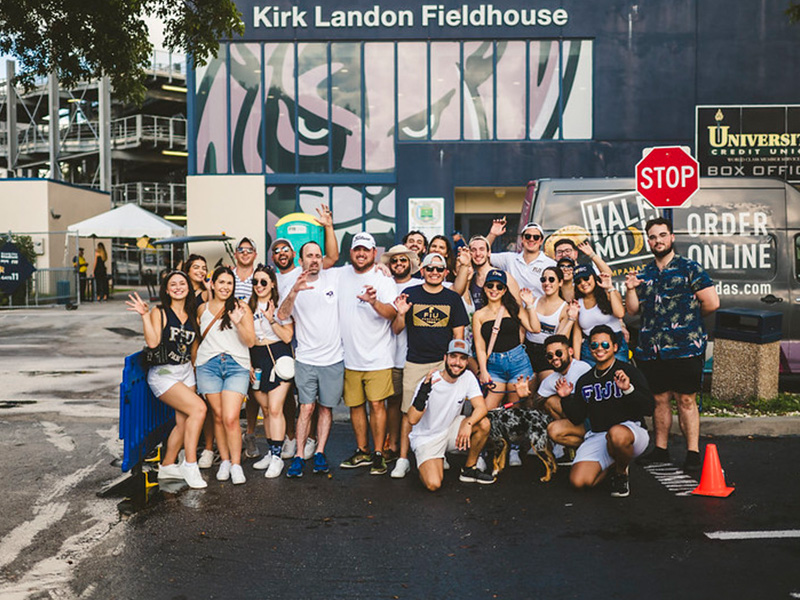 Guests of FIU Students
Student guest tickets can be purchased the week of each home game at the FIU Football Fieldhouse. Guest passes can also be purchased at the stadium on game day. The first guest is free and each additional guest costs $10. There is a limit of four per student. A valid FIU OneCard is required at the time of purchase